July 23-27, 2018, we welcomed children to Time Lab, where they traveled through time and met the most important man ever-a man who was not just a man, but also God. One who turned the world upside-down. One who existed outside of time.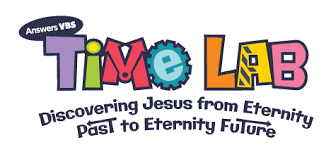 During the week we used words beginning with "C" to help us remember that Jesus, our forever faithful, loving, caring, promise-keeping Lord, has been with us always!
Creation: Did you know the Son of God has always existed? We talked about his existence before time and his activity at Creation.
Christophany: Big, cool word the kids loved learning that teaches the Son of God didn't start as a babe in a manger but has been around forever, actively involved throughout history, including the Old Testament! They studied the biblical accounts of Abraham and Moses that showed appearances of the Son of God to people before he came to earth.
Cross: Here's when Jesus was actually given the name "Jesus." And here's where he lives, dies, and comes back to life. It's the most epic historical account ever! Because of him, we can live forever, too! Although opportunities to present the gospel were provided every day, this is the day we presented the gospel in all its glory.
Clouds: After Jesus rose again, where did he go? He's actively working on our behalf as he sits at the right hand of God the Father, interceding for us, protecting his Church, and preparing a place for his children! Wow!
Crown: We ended our tour through time at the new heaven and new earth, where Jesus and his children will live together in the most amazing place forever. Whatever your best day ever has been, a day on the new earth will blow it away!

Time Lab Stations
Excitement ran high from the first minute our time travelers arrived at Time Lab. They started their day at the Atomic Assembly, a supercharged opening complete with entertaining welcomes, rockin' songs, and prayer. Then we're off to fun rotation sites:
Simulation Station, the teaching time. Here, time travelers discovered Jesus throughout all the pages of the Bible, and realized He's a joy and thrill to find.
Bits and Bytes Lunch, the lunch spot. Time travelers enjoyed having a "byte" of yummy brain food!
Quantum Leap Games, the recreation location. Time travelers realized every nanosecond counts as they race against time and encountered fun physical challenges and games.
Inventors' Science and Crafts, the craft spot. This location featured creative crafts to invent.
After finishing the day's rotations, everyone headed back to the Atomic Assembly for the closing that included more singing, a Creature Feature, and contest results.
Over the course of the week, we were able to present the gospel to 189 children. Church provided transportation brought children from Phoenix Run and Diggs Circle in La Plata, Potomac Heights, Bryans Road and Indian Head bringing in 46 time travelers from these locations.
Bibles were provided to 69 children. In addition, there were 24 decisions. Our church will be following up with these children and their families. Please continue to pray for these children in the days to come.
Mission Moment—Food Paks with Children's Hunger Fund
Our mission project this year was called It's About Time. Time travelers raised money for a ministry called Children's Hunger Fund that delivers the hope of the gospel in a special way. During mission time, kids set off on Hope Excursions to support local churches delivering hope and food to children in need all over the world.  Their mission was to collect coins for meals that will be delivered in Children's Hunger Fund Food Paks.
A Food Pak is a 20-pound box of nutritious food that is hand-delivered to the home of a needy family by a trained volunteer from a local church in their community.
Time travelers were rallied to raise funds for the meals that go in these Food Pak. Each meal only costs 25 cents! So, every dollar that's raised provides four meals for hungry kids—and each meal represents an opportunity to proclaim the gospel! The total amount collected for this ministry was $1,864.00 which will provide 7,456 meals for hungry children. WOW that is pretty amazing!
Operation Christmas Child
During Vacation Bible School, items were collected for Operation Christmas Child. This ministry brings joy and hope to children in desperate situations around the world through gift-filled boxes and the good news of God's love. Items were collected and participants had the opportunity to pack shoe boxes on August 18th at the church to send to underprivileged children around the world.
There are so many people that helped to make this week possible and without each of you this ministry could not be provided. We appreciate each of you and the talents that you contributed. A special thank you to all the families that entrusted their children to us. Most importantly, we want to thank God for making this VBS such a great week! Through all our struggles and adventures, God saw us through. What an awesome God we serve!