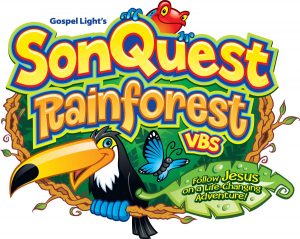 During the week of July 17-21, 2017, we welcomed children to SonQuest Rainforest, where we followed Jesus on a Life Changing Adventure and discovered that we are loved by God.
At Rockin' Rainforest Assembly, kids participated in large-group excitement at the Opening and Closing Assembly.
At the Opening Assembly, we were able to prepare for the day's adventure by singing songs, got focused on the Bible lesson and just get excited about each day at VBS. Our adventure took us to the Amazing Amazon where we were introduced to the SonQuest Rainforest explorers and their leader, the Professor. Each day ended at the Closing Assembly where parents/grandparents were invited to join us. This time consisted of a wrap up with music, drama, and a glimpse of our next day's adventure.
At SonQuest Rainforest, kids experienced God's Word at Bible Adventures.
During the Bible discovery time, they were able to dig into the Bible and meet Jesus in every day's story. These five days of discovery not only gave kids the knowledge of God's Word, but also as they explored five parables told by Jesus. Everything they encountered was based on an opportunity to respond to His truth by living out their Christian faith.
Kids will

Get It!

As they hear the truths of the Parable of the Sower, kids understood the importance of not only hearing God's Word, the Bible, but also living it out every day.
Kids will

Get Found!

As they heard Jesus tell the Parable of the Lost Sheep, they discovered what it means to be lost and how each one can be found by Jesus to become part of God's family.
Kids will Get God's Love! As they listened to the Parable of the Good Samaritan, kids desired to share God's immeasurable love with others.
Kids will

Get Praying!

From the Parable of the Friend at Midnight, they understood the peace that comes from knowing that anytime is the right time to pray to Jesus.
Kids will

Get Going!

As they understood the Parable of the Talents, they discovered what it means to love God by doing their best.
Bibles were requested by 52 children.
At Rainforest Missions, kids took part in mission projects.
Kids learned how to Serve With A Mighty Purpose through activities and projects that helped put their faith into action and impact the lives of others.
Operation Christmas Child collects shoeboxes filled with gifts and delivers them to children in need around the world. Every one of these shoebox gifts is an opportunity for the Gospel. Gospel booklets are provided for each recipient to help them learn about God's Greatest Gift, His Son, Jesus Christ. Each participant was encouraged to bring items in on day 3 of VBS to be used to pack shoeboxes. (fun toys, hygiene items, school supplies, etc.) Each box shipped costs $9. The offering collected during VBS will be used to help with shipping costs for these shoeboxes. Throughout the week, the children were able to bring in $832.69.
After other donations from the church our total collected was $1,258.79.
Children, K-Grade 5, prepared hygiene kits to pack in the shoeboxes. On Friday, items collected were packed into shoeboxes. The daytime VBS session paced 151 shoeboxes. Youth packed 75 during the evening session bringing the total packed to 226 shoeboxes for the Operation Children Child ministry. To learn more about this ministry, go to https://www.samaritanspurse.org/what-we-do/operation-christmas-child/.
Other mission projects throughout the week included packing 200 first aid kits for the homeless, making Catherine Foundation four 12X12 baby scrapbooks and 150 bookmarks for mothers to encourage their children to read. What great opportunities for our children to be involved in missions and sharing God's love.
At SonQuest Rainforest, kids made crafts, participated in activities that enabled them to "Experience the Rainforest", ate lunch at Canopy Café and participated in fun-filled games.
Each day, they jumped up, and got moving with high energy, team building games and fueled up where lunch was prepared by the kitchen team. During craft time they were able to make theme related crafts and items that reflected the day's Bible lesson. What a great opportunity to connect with the children about who God is and what God means to them with every activity.
The church provided bus transportation, coordinated by Gary Boston, for children in: Bryans Road, Indian Head, Potomac Heights brought in 35 children and Diggs Circle and Phoenix Run brought in 20 children.
Attendance
Highest day total: 147
Volunteers: daily average of 90
We cannot begin to express our gratitude to each and every one that contributed to the success of this year's VBS. God truly blessed us with a great 2017 SonQuest Rainforest VBS Adventure! And thank you for bringing your children as we shared this adventure together.
Mark your calendars for next year's VBS schedule for July 23-27, 2018. Stay tuned for the revealing of our 2018 VBS adventure!