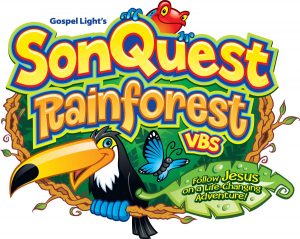 It's Almost Time...the Adventure Begins July 17th!
 where kids follow Jesus on a Life Changing Adventure and will discover that they are loved by God. 
July 17-21, 2017
9:45 a.m. - 1:30 p.m.
We will be serving lunch this year! Please see our lunch menu at the bottom of this page.
If you will be joining us this week (and we hope you will), we invite you to dress for "Fun Days" listed below:
Tuesday - wear yellow and/or crazy socks day
Wednesday - wear green and/or funny hair day
Thursday - wear orange and/or clashing clothes day
Friday - wear blue and/or water day
LUNCH MENU FOR MORNING VBS:
Monday:
Grilled Cheese Sandwich
Chips
Sweet Soil (Chocolate cookie crumbs, a gummy worm, Jelly beans on top of pudding)
Kool-aide, Water
Tuesday:
Toucan Bites (chicken nuggets)
Macaroni & Cheese
Apple Sauce
Hugs, Water
Wednesday:
Annaconda Rolls (Hot dogs on buns)
Beans
Heart-y Fruit on plastic skewer
Capri Sun, Water
Thursday:
Taco Mounds
Tropical Jello (mandarine oranges & sliced bananas)
Lemonade, Water
Friday:
Pizza
Spiders (LD fudge rounds, pretzel sticks, mini M&Ms)
Forest floats (pineapple sherbet & lemon-lime soda)
Water
If your child has any allergies to the above items or desires something other than what is being served, please bring an alternative lunch for them. Unfortunately, substitutions will not be provided by the church.
PLEASE NOTE: We are a NO Peanut Zone this year due to a known peanut allergy.
Please keep this in mind if you bring alternative food choices.