Operation Christmas Child
As a collection site for Operation Christmas Child, we have seen how God's love can transform lives.
And it all begins with a simple shoebox filled with gifts for a child.
Fill your shoebox with school supplies, hygiene items, toys, clothing, and other items to bring joy to the life of a child who might have never received a gift. Pray that your shoebox will go where God would have it go, and bring it to First Baptist Church of La Plata during one of our collection times.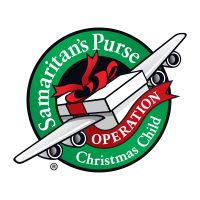 Join us in Ministering to Children!
The unique situation this year has made it difficult for us to fund raise for Operation Christmas Child. Typically, we hold bake sales during our soccer season, which was cancelled. However, we are more determined than ever to show children worldwide that God loves them and wants to know them.
In fact, we are taking on a challenge this year - we want to pack 500 shoeboxes as a church!
Please consider clicking the button below to contribute items or funds to our shoebox drive. You can also donate funds for shipping, or buy items for your own personal shoebox gifts at a discount. That's correct, we will do the shopping for you. Details are available on the form.
Collection Times for 2022
Day
Date
Start Time
End Time
Monday
November 14
5:00 PM
8:00 PM
Tuesday
November 15
3:00 PM
6:00 PM
Wednesday
November 16
9:00 AM
11:30 AM
5:00 PM
7:00 PM
Thursday
November 17
5:00 PM
8:00 PM
Friday
November 18
3:00 PM
7:00 PM
Saturday
November 19
10:00 AM
2:00 PM
Sunday
November 20
12:30 PM
4:00 PM
Monday
November 21
9:00 AM
12:00 PM
Justin's Story - See How Your Gift Can Impact a Life

How To Pack A Shoebox
Find a Shoebox: Medium size works best, but any shoebox will do. Festive wrapping paper makes the gift exciting, but wrap so that the box can be opened
Select who will receive your box: You will indicate boy or girl, as well as choosing an age group of 2-4; 5-9; or 10-14
Purchase (or make) gifts: A detailed list of gift suggestions is available at this link. Please do not include liquids, toothpaste, or any candy due to customs
Pray: Most importantly, pray for the child who will receive your gift. You can also include a personal note and photo. Here is a fun download for kids to include in a shoebox
Prepare to Ship: The cost to ship a shoebox is $9. If you would like to know where your gift ends up, please click here to follow your shoebox by donating $9 online. You will print your label(s) and attach before dropping off
Drop off your gift(s) at First Baptist Church of La Plata during one of our collection times listed above. We can't wait to see you!